broadwayworld.com - Sally Struthers Arrested Today for DUI. According to People.com, Sally Struthers, best known for her roles on "All In The Family" and "Gilmore Girls," was arrested for driving under the influence earlier today. Struthers was stopped by an officer at 12:20 am on Route 1 in Ogunquit, Maine, taken to a police station, and charged with operating under the influence. Her bail was $160 for the misdemeanor and she was released, set for a court date in December.
insidetv.ew.com - Scott Cohen currently staring in Necessary Roughness on USA has a role on the new ABC period show Pan Am. Set in the 60's the soap follows the lives and loves of a team at the legendary airline.
msn.com - Sebastian Bach has reportedly lost his New Jersey home from flooding with Hurricane Irene. "Gone are irreplacable [sic] items, such as my KISS Gargoyles from the 1979 tour," but the good news is his ex-wife and kids are safe.
avclub.com - Krysten Ritter has guest stared on the long delayed pilot for Love Bites NBC. "A woman (Krysten Ritter) decides to announce that she's a virgin to pull attention away from her pregnant friend (Newton), only to meet the man of her dreams and find herself trapped in what is most certainly a lie."
digitalspy.com.au - Tricia O'Kelley (Nicole, Luke's ex) has landed a role in an untitled CBS sitcom pilot. The show is based around a married working-class man who lives with his grown-up daughter, grandson and mother. O'Kelley will play his other daughter who doesn't live with them. She is happily married with two children.
digitalspy.co.uk - Katie Walder (Janet, Rory's Yale room mate.) has confirmed that she will appear in an upcoming instalment of Supernatural.
myfanbase.de - Emily Kuroda played the legendary Mrs. Kim in the popular dramedy Gilmore Girls. In this interview she talks about how she got into acting, what life in the lovely town Stars Hollow was like and what her new projects are. click here to read the interview.
gilmorenews.com - Sebastian Bach (Gil on Gilmore Girls) has experienced a mixture of bad and good fortunes lately. On the bad front, it was recently announced that he and his wife, Maria Bierk, are getting divorced after 9 years of marriage and 3 children... read more at gilmorenews.com
insidetv.ew.com - Krysten Ritter (Lucy) lands new ABC comedy. "EW has exclusively learned the Veronica Mars, Gilmore Girls and Breaking Bad actress has been cast in ABC's comedy pilot Don't Trust the Bitch in Apartment 23."
gilmoregirls-italia.com - Here is a recent interview with Emily Kuroda (Mrs. Kim) the short interview covers her time on the show and the close bond she developed with co-star Keiko Agena (Lane).
ausiellotvswag - Michael Ausiello a long time fan and supporter of Gilmore Girls is selling of some of his 'TV Swag' that he has collected over the years. Gilmore related items include DragonFly Inn Stationery, Promotional VHS of the Pilot and Signed Script "Wedding Bells".
gilmoregirlsbook.wordpress.com - The Gilmore Girls Companion - It's been in the works for years but now finally the unofficial Gilmore Girls book has been released.
ew.com - Reunion Issue - Gilmore Girls joins a long list of shows and movies in this special issue. Here is the page, special thanks to Chazman. Lauren Graham "All right, well then, hey—we probably got married in year one. We've been away from the show three years. We had kid one in year two, and we had kid two in year three. That's what Alexis says, and I am very overwhelmed by my toddlers."
update - Video now online at ew.com/reunionsvideo
gilmorenews.com - Scott Cohen Cast in Necessary Roughness. Better known as Max Medina to Gilmore Girls fans Scott has been cast in the USA pilot series, Necessary Roughness. Scott also recently guest started in the 2nd episode of the new Hawaii Five-0 on CBS.
gilmorenews.com - Arielle Kebbel will be joining Life Unexpected in season two as a bartender.
ew.com - Arielle Kebbel (Dean's wife Lindsay) will be vamping it up. Appearing on The Vampire Diaries and True Blood on TV and in theaters with Vampires Suck.
gilmorenews.com - Emily Bergl will be in the coming season of "Desperate Housewives" Emily will be playing the role of Beth, a 'fragile soul who married Paul while he was behind bars.' She comes to Wisteria Lane with a big secret. gilmorenews.com will be doing an interview with Emily soon.
update - examiner.com - Interview with Emily Bergl on the Desperate Housewives set.
Gypsy returns to Stars Hollow - Rose Abdoo has returned to her former Gilmore Girls playing a gypsy of all things. She guest stared on the new US ABC series Pretty Little Liars July 13 in the episode 'There's No Place Like Homecoming'. No word yet on who had the rights to this show in Australia.
gilmorenews.com - Billy Burke (aka Alex Lesman) has been cast a regular in the new TNT series, Rizzoli and Isles. Billy has most recently appeared in the Twilight movies Eclipse and New Moon. Rizzoli & Isles stars Angie Harmon (Law & Order) as police detective Jane Rizzoli, Sasha Alexander (NCIS) as medical examiner Dr. Maura Isles. Burke will portray "FBI agent Gabriel Dean" in the new TNT series which premiered in the US on July 12.
deadline.com - Krysten Ritter's series Gravity has not been re-newed for a second season by Starz. "Stephan Shelanski, executive vp programming for Starz Entertainment, issued a statement confirming the cancellations. "After careful consideration, we've decided not to continue on with subsequent seasons of Party Down and Gravity," he said. "Starz remains committed to aggressively expanding our original programming lineup."
tv.ign.com - It's been an incredible busy couple of years for Krysten Ritter. When I mentioned to the actress how I kept seeing her in different TV and movie projects, she laughed and replied, "I hustle!" After recurring roles on Veronica Mars and Gilmore Girls, Ritter went on to scene-stealing performances in What Happens in Vegas and Confessions of a Shopaholic, among other films, and a memorable run on Breaking Bad, as Jesse's ill-fated girlfriend, Jane. Ritter is back on TV this week with Gravity, a very off-beat comedy airing on Starz. The actress plays Lily, who is a member of a support group for people who attempted to commit suicide. Ritter spoke to me about tackling such a dark subject in a TV comedy and her outlook on her character, plus her thoughts on Breaking Bad.
ausiellofiles.ew.com - ABC axes 'Eastwick' ABC has opted not to order additional episodes of Eastwick, effectively canceling the freshman dramedy. The show has consistently finished last in its Wednesday-10 pm timeslot. It's understood ABC will air the remaining episodes they are currently about half way through the 13 ep order. update - 'Eastwick' boss to fans: 'I'm furious, too!' "I'm pretty furious, too," vents executive producer Maggie Friedman. "We have such an amazing group of writers and actors — best people I've ever worked with. None of us can believe this is really happening." And it looks like while we will get the full 13 episodes aired that closure may not happen as the final has already been shot. update 2 - setting the record strait - "Eastwick exec producer Maggie Friedman — who earlier this week told me she was "furious" about the cancellation of her ABC dramedy — is regretting her choice of words. She just e-mailed me the following clarification"
examiner.com - This cute ABC series is based on the movie of the same name, has a cast of familiar (if not well known) TV faces and resides in that very familiar area of the Warner Brothers lot that used to be Stars Hollow. Like Gilmore Girls, Eastwick deals with family matters and matters of the heart in a quirky, small town. Sadly, it's missing the zing.
Want to save Eastwick? There's a campagin for that. Here's the SOS Twitter, and the Petition. Should we take advantage of the Halloween sales and start sending witches' hats to ABC?
examiner.com - Todd Lowe who plays Terry Bellefleur, the soft spoken shell-shocked ex-soldier and cook at Merlotte's on HBO's sensational vampire series True Blood, has been officially added to EyeCon's November True Blood convention.
aceshowbiz.com - Arielle Kebbel (Lindsay Forester) will appear as Stefan's "oldest and best vampire friend" named Lexie in the seventh episode airing October 22 on The CW in the US.
Kathleen Wilhoite (Luke's sister Liz) is set to appear on the October 15th episode od Grey's Anatomy, 'Invasion'. This will be the 5th episode of the 6th season. She has previously appeared in shows including Without a Trace, Criminal Minds, Boston Legal, Charmed and LA Law to name just a few.
altoonamirror.com - She's been in show business for nearly 40 years, but Sally Struthers isn't a diva. Struthers joked, laughed and posed for photos before her performance in "Sugar Babies" Friday at The Casino at Lakemont Park - and that's typical, said her co-star Mike Hillegas Sr., who plays the Top Banana in the show.
courant.com - The Warner backlot used for Stars Hollow has been turned in the set for the new ABC drama Eastwick. "It was the town they shot 'Gilmore Girls' in on the lot. And it now looks completely different, all due to her magic." executive producer Maggie Friedman said. Rebecca Romijn, Jamie Ray Newman and Lindsay Price star in the roles once taken by Cher, Michelle Peiffer and Susan Sarandon in the 1987 movie 'Witches of Eastwick'. Canadian Paul Cook has the devilish Jack Nicholson role. Eastwick begins September 27th on ABC in the US.
edited - the backlot has most recently been used for Ghost Whisperer since a fire at Universal Studios in June 2008 damaged sets there. A few other shows like Pushing Daises, Chuck, The Mentalist and Terminator: The Sarah Connor Chronicles, have used the backlot sets since Gilmore Girls ended.
Here is the ABC Eastwick Pilot Promo Trailer
ausiellofiles.ew.com - Gregg Henry (aka Mitchum Huntzberger) is set to join the new show Glee. The new Fox series is set to continue September 16 after the one off pilot aired in May, in the US.
seattletimes.nwsource.com - Seattle actor Michael Winters on why Shakespeare's his man "Q&A: A chat with Seattle actor Michael Winters, who plays the bear of a role Prospero in the upcoming Seattle Shakespeare Company production of "The Tempest," playing June 4-28, 2009, at the Seattle Center theater. Wizard. Doting father. Slave master. Avenger. Prospero, the lead figure in William Shakespeare's "The Tempest," is a bear of a role."
tvguide.com - Liz Torres will be guest starring on Desperate Housewife soon.
gilmoregirlsbook.com - "The Gilmore Girls Companion, coming in July 2009 from BearManor Media, is an unauthorized, behind-the-scenes look at one of the best-loved programs in television history. Drawing on extensive research and exclusive interviews, the book will give fans a richer understanding of each and every episode."
ausiellofiles.ew.com - Emily Kuroda Lane's hilariously overbearing mom from Gilmore Girls is checking into Grey's Anatomy later this month. Emily Kuroda will play a patient in the episode titled "Stand By Me" to air March 19 on ABC in the US. Added - buddytv.com - Emily Kuroda is a hernia patient with Cristina as her doctor.
ausiellofiles.ew.com - Krysten Ritter (Lucy on Gilmore Girls) joins Gossip Girl spin-off - Veronica Mars and Gilmore Girls alum Krysten Ritter has been tapped to play Lily's troubled older sister, Carol, in the offshoot, which chronicles the teen years of Kelly Rutherford's alter ego. Described as sweet but a bit of a disaster, Carol is an actress who's constantly making bad decisions in life and work. Lily ends up moving in with Carol after a falling out with mom and dad. Lily will be introduced into Gossip Girl May 11.
venturacountystar.com - Agoura Hills sisters are young stars on the rise Vanessa, 16, appears as Haley McGuire in the new TNT series "Trust Me," starring Tom Cavanaugh ("Ed") and Eric McCormack ("Will and Grace"). Laura, 13, who played Becca as a girl in the 2007 hit movie "Superbad," has appeared recently in TV series including "Dexter" and "Gary Unmarried."
David Sutcliffe (Chris) has a 11 episode story arch on Private Practice, David Sutcliffe plays SWAT Officer Kevin Nelson, the love interest for Kate Walsh, Addison. Also Liz Torres (Miss Patty) will play a judge in episode 2.07 "Tempting Faith". She doesn't have big part but is in several scenes.
greeleytribune.com - Sally Struthers stays busy with TV and cartoon jobs; see her latest role at the Union Colony Civic Center.
hollywoodreporter.com - A day after Warner Bros. Television filed a $49 million complaint against CBS over hit comedy "Two and a Half Men," the studio itself became the target of suit by "Gilmore Girls" executive producer Gavin Polone over the quirky WB dramedy.
au.tv.ign.com - Jessica "Sugar" Kiper - Coming into Survivor as a self-described pin-up girl and with a nickname like Sugar, it was easy to underestimate Jessica Kiper. However, her quick find of the hidden immunity idol was only the tip of the iceberg at what would turn out to be a rather impressive series of major moves the actress -- whose resume includes a four-episode stint on Gilmore Girls -- would pull off throughout the season...
tbtv.com - Vanessa Marano new role - While there will be a new face on The Young and the Restless soon, there won't be a new character to go with it. Erin Sanders, who has played Eden Baldwin since August 2008, will be on the show for the last time this November 19th. Eden's character will be picked up again two weeks later -- this time played by Vanessa Marano. Now, if you loved Gilmore Girls (and are still upset the show isn't produced anymore!), you'll recognize Marano as the actress who played April Nardini in the series; you might have caught her in Without A Trace, too. Check out Vanessa Marano's new role as Eden in The Young and the Restless beginning December 3rd at 4pm on TB Television/CTV in North America.
southernillinoisan.com - Sally Struthers (Babette) brings comedic talents to Marion 'Nunsense' – Musical comedy... Throughout the interview, Struthers was charming and hilarious. When asked what she was dressing as for Halloween, she poked fun at her public image by answering "Today, I'm Sally Struthers. I have hungry children hanging all over me."
Mädchen Amick (Sherry, Chris' ex wife, mother of Gigi) is now playing Angie Spivey on the new NBC drama, My Own Worst Enemy staring Christian Slater. She also recently appeared on Californication with David Duchovny as his long lost love and Gossip Girl. update - My Own Worst Enemy has been cancelled by NBC in the US.
gilmoregirlsnews.com - Chris Eigeman (Jason 'Digger' Stiles on Gilmore Girls) has just appeared in the new SciFi thriller Fringe as the scientist with questionable morals. The the sixth episode in the new series, was entitled "The Cure." aired Tuesday night in the US and is yet to air here in Australia after the Nine network removed it from it's Wendasy night line up and replaced it with The Mentalist.
ausiellofiles.ew.com - Question: Can I just say that I hate 90210. It makes me want to tear my hair out. -- Anya
Ausiello: And yet you continue to watch. Why is that, Anya? While you ponder that question, I have good news to share: The show will soon start sucking less. We got our hands on the script for episode 10, the first one rewritten by Gilmore Girls scribe Rebecca Kirshner, and according to my colleague Kristen Baldwin, "It's definitely much sharper and funnier. There's a David Mamet joke in the first scene that is pure Lorelai." In another promising sign, sources confirm that one of Kirshner's fellow Gilmore producers, Gayle Abrams, will be joining her in the 90210 writers room, effective immediately. Can Amy and Dan be far behind? (Answer: Yes they can be far behind. Very far behind.)
blogs.courant.com Sebastian Bach Wins 'Gone Country' - After losing every other reality competition he was in, from "Celebrity Duets" and "Celebrity Rap Superstar" to even "Weakest Link," Sebastian Bach came out the winner of the second season of "Gone Country" Friday. cmt.com
ausiellofiles.ew.com - This Just In: The CW Picks Up '90210,' Adds 'Gilmore' Vet! As I was perusing The CW's just-released press release announcing the full-season pickup of 90210, I noticed the most peculiar thing: Those crazy kids buried their lead! In the final sentence of the bulletin, the network quietly mentions that veteran Gilmore Girls scribe Rebecca Kirschner is joining the series as an executive producer.
livejournal.com - Todd Lowe (Zach) will be on the second episode of True Blood to air in the US September 14th, Todd with play Terry Bellefleur on the new HBO series. True Blood is a show about vampires 'came out' after a synthetic blood replacement is developed.
Sally Struthers (Babette) was on ET, making a quick comment about Sarah Palin the Republican choice for VP "I think she's a fabulous woman, I love Sarah Palin." youtube clip
news.com.au - Sydney actor Tanc Sade has just landed a role on Ch 9's The Strip, the 28-year-old, has just filmed a part on the new 90210 (coming up in episode 6). Sade is known to Gilmore Girls fans as Finn.
www.celebrity-babies.com - Family Guy and former Mad TV star Alex Borstein and her husband, former Gilmore Girls actor Jackson Douglas, have welcomed their first child. Barnaby Borstein Douglas arrived on Monday, September 8th, weighing in at 8 lbs, 10 oz. He is 19 inches long.
hollywoodinsider.ew.com - Survivor Castings ...among the fresh faces is Jessica "Sugar" Kiper (Gilmore Girls fans may remember her as the pin-up model who made out with Milo Ventimiglia during her four-episode arc as Shane)
ausiellofiles.ew.com - Gilmore Girls - Veronica Mars alum Krysten Ritter is headed to AMC's Breaking Bad for what I'm told is a major recurring arc. Rumor has it she'll play a love interest for Aaron Paul's Jesse.
tvguide.com - Paul Anka Lorelai's adopted dog was a bit nuts (who wouldn't be after hanging around that family?), but hey, sometimes flaws are even more lovable. "He was adorable with all his idiosyncrasies!"
livejournal.com - Previously unreleased high quality promo pictures from season 5, you will need to be a livejournal member to see them.
gilmoregirls.fan-sites.org - Previously unreleased high quality promo pictures from the first season.
ksta.de - Barack Obama wins the hearts of the Europeans, as otherwise only the heroines of the US TV serial "Gilmore Girls" succeed. In their rejoicing many do not notice at all that Obama connects also some with the hated nor president George W. Bush. (translated from German)
broadway.com - In Silver's black comedy Three Changes, Nate (McDermott) and Laurel (Tierney) are a comfortably married Upper West Side couple—until Nate's wayward brother Hal (Cohen) arrives from Hollywood. What at first seems a casual visit, a chance to reconnect, is quickly revealed as something more ominous. Cohen recently co-starred in Caryl Churchill's Drunk Enough To Say I Love You at the Public Theater and appeared on Broadway in Losing Louie. He is known to TV audiences for his roles in Gilmore Girls and The Return of Jezebel James.
www.tennessean.com - Sebastian Bach hasn't spent much time offstage since his ejection from rock group Skid Row in the late '90s, but the stages have changed.
ew.com - Gilmore Girls made it in to the Entertainment Weekly "New Classics" list at number 32.
eonline.com - Mädchen Amick (Sherri) Inside sources are spilling on the latest romantic entanglements on Gossip Girl's Upper East Side, including news that the show's original golden couple, Nate and Blair ("Nair"), aren't reconciling any time soon—thanks to a certain new cougar who's ready to pounce. This pretty (older) kitty is none other than Mädchen Amick (Twin Peaks, ER, Viva Laughlin), who, according to CW insiders, will appear in the season premiere on Sept. 1 and is expected to hang around for four or five episodes. Word is, Madchen is heavily involved in Nate's storylines and also has "a surprising connection to another new character on the show."
smh.com.au - Jared Padalecki the Supernatural pin-up boy is feeling a little snug in the pants. The 25-year-old Hollywood actor arrived eight hours late in the country without his bags which had been misplaced en route, along with all of his clothes. As a result his first stop when he arrived in Sydney was to pick up some new underpants, but for a guy who spends most of his time battling the paranormal on the Network Ten hit show Supernatural as Sam Winchester, buying grundies proved quite a challenge. "I had to go buy clean underwear with the crazy Australian sizes that I didn't understand," he told AAP in Sydney.
pastemagazine.com - Sam Phillips Before we ever printed a copy of Paste, I headed out to Los Angeles to interview Sam Phillips for Issue #1. Her then-husband T-Bone Burnett had offered us out-of-the-blue encouragement of our first website, PasteMusic.com, and she had agreed to an interview for a magazine that didn't yet exist. Since then, she's written music for The Gilmore Girls and released two more stellar records, most recently Don't Do Anything. I caught back up with her on the day it hit stores.
buddytv.com - Misconceptions Described as a movie that takes a lighthearted look at the ongoing culture war between same-sex parenting and Christian conservatives. Melinda Bliss is a religiously conservative, married southern woman who receives a message from God telling her to act as a surrogate mother and carry a child for two married gay men who live in Boston. Staring David Moscow as the Jewish doctor and Orlando Jones as the African-American dance choreographer. Also included in the film are Sarah Carter, David Sutcliffe and Tom Bower. Misconceptions marks Cook's third film after joining the cast of Criminal Minds in 2005. She was first cast in the romantic comedy I'm Reed Fish starring Gilmore Girls' Alexis Bledel in 2006 and then landed a role in the 2007 horror thriller Night Skies, which is movie about UFO sightings.
pastemagazine.com - Sam Phillips has proven herself capable of appealing to mass audiences, via her long affiliation with The Gilmore Girls. Heck, she had a song on one of the best-selling albums of 2007. But mainstream popularity has never been her aim. "I'd rather make art than make my dreams come true," she quoted in the album's promotional materials. On Don't Do Anything, she succeeds beautifully by doing nothing more than being the best possible version of herself.
TheWB.com Opens for a Peek - The WB private-beta-launched its anticipated new portal of old shows tonight, and I just had a chance to take a look around. The site looks nice enough and promises some interesting features, but there's a lot left unfinished. But this site is for US residents only.
salina.com Stiefel Theatre - What do Billy Bob Thornton, David Crosby, Graham Nash, Sally Struthers and a troupe of former congressmen turned comedians have in common? They're all part of the 2008-09 lineup at the Stiefel Theatre for the Performing Arts, 151 S. Santa Fe. more here
CBB News Editor - Alex Borstein and Jackson Douglas expecting first child, a son
Actress Alex Borstein, 35, has announced that she and husband, former Gilmore Girls actor Jackson Douglas, are expecting their first child -- a boy -- early this fall. The Family Guy and former Mad TV star wrote on her blog, "I am knocked up. It's official. I have a teeny tiny penis inside of me right now and it will be coming out of me in September. So, there you have it. Some exciting news from the Alex Borstein camp." The couple have been married since 1999. - gjoni@FanForum
popwatch.ew.com - Interview with Marion Ross
Fine. RAE would love to know how you liked working on Gilmore Girls.
I loved being on Gilmore Girls. I was proud of myself because that wonderful Amy Sherman-Palladino sent me the script with a note saying, "I know you're not old enough to play this part, but we'd love to have you do it," but I was too busy at the time. So my agent said, "No, she's too busy, she can't do it." But on Saturday morning, I woke up and said, "Oh, that's too good a script," so I personally called up the studio and said, "Listen, why don't we shoot this another week? I have to go away on Tuesday." "What are you doing Monday?" "Nothing." "Okay, it's Saturday. We'll send out the hairdresser to get your gray wig. Wardrobe lady will come out on Sunday, and figure out something. Monday, you can start. You go away and do that other thing, then you'll come back." I was so pleased that I made such an effort because otherwise I wouldn't have gotten to do that, and I love that show. I love that Lauren Graham. I love everybody. Of course, I didn't have much time to learn the lines, and you have to talk very fast. Ed Herrmann [Richard Gilmore] would walk me around, and say, "You can do it. You can do it. You can do it!" [Laughs] - copperboom08@FanForum
hollywoodreporter.com – David Sutcliffe (Gilmore Girls) will return to Private Practice for 11 episodes next season, reprising his role as Officer Kevin Nelson, a new love interest for Dr. Addison Montgomery (Kate Walsh). As previously reported by EW.com, Sutcliffe guested on the show last fall, but his story was put on hold by the writers' strike. Kevin and Addison were last seen exchanging glances on the Dec. 5 episode, the last original one before creator Shonda Rhimes joined her fellow scribes on the picket line.
nymag.com - I have to ask: Any chance of a Gilmore Girls or a Tenth Kingdom movie? They talked about a Tenth Kingdom movie years ago, but they couldn't figure out how to get it done. That was a shame, I thought. I've heard talk through the press that there've been conversations about a Gilmore Girls one. [Series creator] Amy Sherman-Palladino's coming to the play this week, so I'll probably bring it up with her. damselfy@FanForum
broadway.com - It's a long way from Gilmore Girls to the dark political musings of British playwright Caryl Churchill, but Scott Cohen inhabits both worlds with ease. Now starring in the Public Theater's production of Churchill's elliptical drama Drunk Enough to Say I Love You?, Cohen received excellent reviews for his performance as Sam, a gay man who represents nothing less than American imperialism in aggressively seducing Guy, a stand-in for the more submissive Britain. Cohen, who made a strong impression last season in the otherwise forgettable Broadway comedy Losing Louie, has kept busy on the small screen in recent years, playing Lorelai's fiance in early seasons of Gilmore Girls, a detective in the short-lived Law & Order: Trial by Jury and now Parker Posey's lover in the new Fox sitcom The Return of Jezebel James. Miss GoodManners@FanForum
hollywoodreporter.com - says the WB is launching an online channel that will stream their old hits, including Gilmore Girls - caf123@FanForum
Grant Lee Phillips and his wife had a baby girl on January 11th - copperboom@FanForum
EW's Most Memorable TV Watch Moments of 2007 - ew.com - Lorelai? Lorelai? was one of the most memorable moments in TV in 2007 - gossipcom@FanForum
New releases on DVD - 'Gilmore Girls' bows out with missteps and grace - orlandosentinel.com
Rory Gilmore (Alexis Bledel) graduated from Yale in the seventh year of Gilmore Girls. She also departed prime time. She didn't leave with honors.
Gilmore Girls slipped in this, its final season, without creator Amy Sherman-Palladino to guide the screwball saga of Rory and her mom, Lorelai (Lauren Graham). As the DVD will remind fans, the show lost its quirky oomph along the way.
Lorelai plunges into an ill-advised marriage to Christopher Haden (David Sutcliffe), Rory's dad. That annoying plot keeps Lorelai from Mr. Right, diner owner Luke Danes (Scott Patterson).
Still, toward the end, executive producer David Rosenthal rights matters. Rory emerges from a rocky romance with Logan (Matt Czuchry), who, frankly, never seemed worthy of her.
In the finale, the loopy burg of Stars Hollow, Conn., celebrates Rory's graduation, and CNN's Christiane Amanpour makes a brief appearance.
Above all, the last season supplies the last look at the tender, talkative duo of Lorelai and Rory. The characters are an inspiration even when their writing doesn't flatter them. Cappuccino@FanForum
Ask Matt tvguide.com
Question: In another blog on TVGuide.com, someone was bemoaning having Jim and Pam together on The Office, saying, "Did we learn nothing from the Moonlighting debacle?" Not being a viewer of The Office, I cannot weigh in on the specifics of this situation. But I'm tired of Moonlighting being cited as the reason no couple has been allowed to get together on a TV show for the last 20 years. In my opinion, the reason Moonlighting failed to work once they put Dave and Maddie together is because by that point, Bruce Willis and Cybill Shepherd couldn't stand to be in the same room with each other. Their chemistry was gone and their loathing was evident. After a while, manufactured excuses to maintain sexual tension take their own toll on an audience. Add that fact to everyone claiming that, post-Moonlighting, couples must be kept apart at all costs, and it becomes a self-fulfilling prophecy. Once the couple finally gets together, people look for what they were told was going to be there: a loss of chemistry, a loss of drama, etc., and, of course, they find it, whether it's really there or not. I can think of any number of shows — Lois & Clark and Gilmore Girls leap to mind — where the real problem wasn't what to do once the couple got together, but rather the ridiculous attempts to keep them apart, which destroyed all audience goodwill. If writers can't figure out what to do when a couple get together, maybe they shouldn't try to tell us those couples belong together in the first place. Personally, I feel cheated if I am not given time to enjoy a relationship that I have been rooting for for months or years. That's one advantage of TV over movies: getting to see what happens after the happily ever after. What do you think — is it time to retire the assumption that a show must necessarily die once a relationship is allowed to live?— Ryan P., Valley Village, Calif. - dukesmom@FanForum

Matt Roush: With all due respect to whoever wrote the comment that inspired this question, I agree that the Moonlighting yardstick should be retired. The problem with the Dave-Maddie consummation was that there was no joy in it (either on screen or behind the scenes), whereas with Jim and Pam, there is only joy and continued good humor in their now-open relationship. It is a great payoff for viewers, and I don't understand the backlash — not that I've been seeking it out (why would I?). I'm lucky that way, in that it has to come to me before I respond, and so far, I'm only hearing about it secondhand. Gilmore Girls is a terrific example of how people could misconstrue the results of bringing beloved characters together. Lorelai and Luke were doing just fine and were delightful company before the April incident and the Christopher incident spoiled things in such ridiculously contrived ways that it helped ruin the final seasons of the series. No fault of Lorelai or Luke (or the actors, for that matter). Let's just hope the Office producers aren't planning similar miseries for Jim and Pam anytime soon.
Gilmore Girls - The 100 Best TV Shows of All-TIME - time.com - thanks to PollyGreen! for the link and gjoni@FanForum - "Lauren Graham and Alexis Bledel must have had personal trainers who had them lift tiny weights with their tongues. Amy Sherman-Palladino's chatter-rich scripts brilliantly took single mom Lorelai and teen daughter Rory and made them the stars of a Tracy-Hepburn love story. (Sample: Rory teases her mom about dating a much younger man. Lorelai: He's in his twenties! Rory: He must have been a very good boy to deserve such a happy day. I bet they let him ride a pony.) But what sold the show was Graham and Bledel, as a mother-daughter duo who could never say I love you—however indirectly and snarkily—often enough, or in too many words."
Fake DVD Cover - someone made a fake DVD cover for the final season, thanks to Lauren_Scott 4Ever@FanForum for finding it.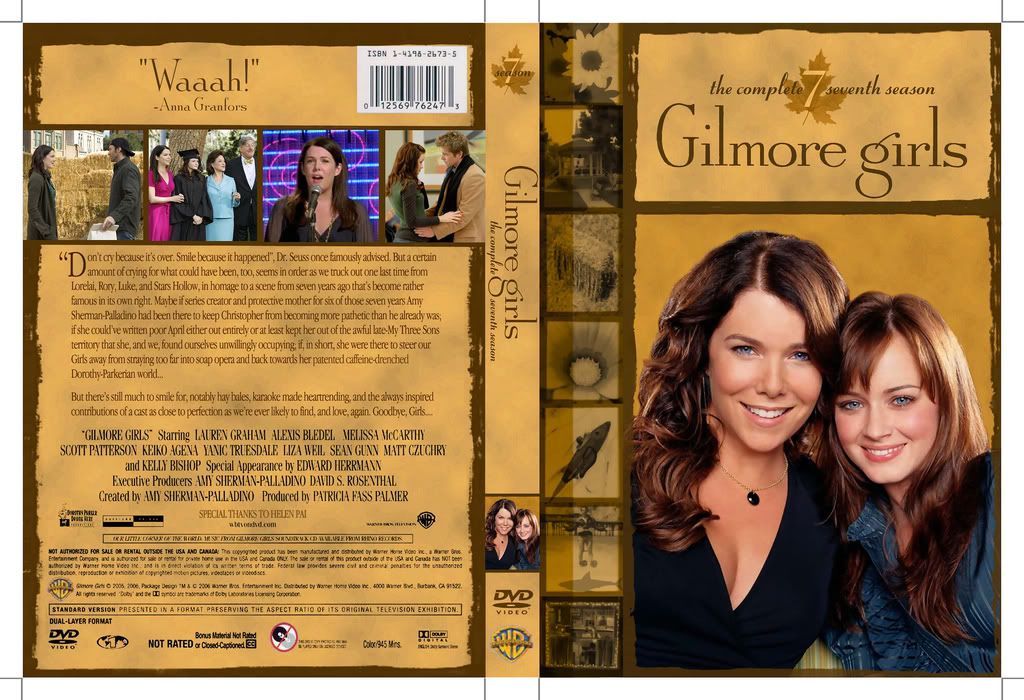 buddytv.com - Longtime stage actress Emily Kuroda, known for her role on the defunct drama series, Gilmore Girls, is currently starring in Lodestone Theatre Ensemble's production of Euripides' classic play, The Trojan Women. The play, translated by Kenneth Cavander, began its run early this month and will continue on until August 26 at the GTC Burbank inside George Izay Park..... - caf123@FanForum
Ask Ausiello - August 8, 2007
Question: I have never been so excited about a piece of paper before: I just received my Dragonfly Inn stationery, and I just wanna say thanks! I've never won anything before!— Jill R
Ausiello: Hey, that reminds me: To all those who entered our Goodbye Gilmore Giveaway, if you didn't receive anything resembling free Gilmore crap in the mail last week, you most likely didn't win. To everyone else, congrats! You own a piece of history!
www.videobusiness.com - "At $258.82, Gilmore Girls carries all seven seasons of the show packed into a collectible retro doll case. It features a 60-page booklet, among other items." - katiegg108@FanForum

www.afterdawn.com - Warner sees big profits in DVD box sets - "Since many of these multiple-disc sets are lavishly packaged and include exclusive add-ons, they carry pricing of $100 to $200 or more. Sets will include Harry Potter Years 1-5 Limited Edition Gift Set and The Gilmore Girls: The Complete Series." - gjoni@FanForum

FAN FICTION KEEPS 'GIRLS' ALIVE - www.nypost.com - jennarose@FanForum
Ask Ausiello - July 11, 2007
Question: How do we enter the Gilmore Girls contest?— Jess
Ausiello: Look for the sweepstakes to go live sometime in the next few days. Keep checking the Ausiello Report blog for a direct link.
(Ausiello had a vodcast about the GG swag. He is giving away DFI guest comment cards and stationary. There will be 35 winners, check tvguide.com around the 11th. of July)
Matt Rouch TV Guide - Monday, July 9, 2007 - Roush on Gilmore Girls and Veronica Mars
Question: Do you think the way the CW (mis)handled the Gilmore Girls and
Veronica Mars series finales (in that no one knew they were going to be series finales until too late) will cause the people behind top-quality shows to shy away from that network? Do you think anyone with the next big hit or cult phenom would go to a network that would put the Pussycat Dolls and Farmer Takes a Wife over their product? Or that would string them along until it was too late to end the show in the way they envisioned?— Jackie
Matt Roush: It's naive to think a producer would ever "shy away" from any network that might potentially buy what they're selling. If someone has a project that fits the CW brand, they're not going to hesitate because of the way a handful of shows ended, especially not after Gilmore Girls' triumphant seven-season run and Veronica's miraculous three-year run (imagine any other network giving it that long a leash). When people are trying to get a show on the air, they're thinking about the beginning, not about the end, which is rarely pretty, regardless of the network. And it's a fact of life that reality shows are a complement to every network's schedule. Frankly, it's amazing that it took the CW of all networks (given its demographics) so long to get busy with this genre. - gjoni@FanForum
Ask Ausiello - June 27, 2007
Question: Dragonfly Inn towels? Memo pad? Telephone? How many guesses do we get?— Kevin Schultz
Ausiello: I'm melting! I'm melting!
Question: I'm going to guess a Dragonfly Inn job application.— Valerie
Ausiello: I'm feelin' hot, hot, hot!
Question: An official Dragonfly pen!— Cathie Flynn
Ausiello: Aaaah… warmth.
Question: I bet it's the golf cart.— Angela
Ausiello: Can't. Feel. My. Fingers. Please. Help.
Question: Is it the fireplace from the Dragonfly?— Rachael F.
Ausiello: Make that a parka — it's friggin' freezing in here!
Question: My guess on the Gilmore Girls prop: The front-desk bell at the Dragonfly Inn?— Missy Jr.
Ausiello: Anyone got a sweater I can borrow? I feel a draft.
Question: When is the Gilmore Girls contest you've been promising gonna be here? I am dying for anything Gilmore!— Joey
Ausiello: We're looking at launching it sometime the week of July 9, but you won't have to wait until then to find out what you'll be playing for. In what can only be described as a major coup for my fledgling little show, the mysterious Gilmore prop(s) will be unveiled exclusively on next week's Ausiello Report vodcast. In the meantime, keep those guesses coming!
Question: What did you think of Evan Almighty?— Amber
Ausiello: Haven't seen it, and I have no plans to. Despite what you may've heard, my devotion to Lauren Graham does have its limits.
www.kiwiolsen.net - another farewell to the show.
Ratings - hollywoodreporter.com In it's final season Gilmore Girls on the CW rated an average audience of 3.7 million viewers, with a rating/share for adults 18-49 of 1.7/4, ranking 121
eBay Jeep Auction ended - for unknown reason the auction was ended and the listing removed. ebay.com
TVGuide PodCast - May 25, 2007 - "...Mike pointed out that he didn't make any movie comment to ASP, and that Amy brought it up when he asked for the final words. He said that all actors originally waved it off in his first interviews because they never thought Amy would go for it, so he had to go back and call them all again..." - Katiegg108@FanForum - Transcript curtsey GGAva@FanForum
"Official EMMY episode submissions for GG in the Drama category, updated May 23rd, courtesy of latimes.com.
The deadline for submitting is May 31, and until then submissions may be changed.
Series and Leads:
Gilmore Girls (episode ??)
Gilmore Girls (Alexis Bledel - "Gilmore Girls Only")
Gilmore Girls (Lauren Graham - "Farewell, My Pet")
Supporting roles (each supporting performer will have an edited episode with just his/her scenes this year):
Gilmore Girls (Keiko Agena - "Will You Be My Lorelai?")
Gilmore Girls (Kelly Bishop - episode ??)
Gilmore Girls (Melissa McCarthey - episode ??)
Gilmore Girls (Liza Weil - episode ??)
Gilmore Girls (Edward Herrmann - episode ??)
Gilmore Girls (Scott Patterson - episode ??)
Gilmore Girls - guest actress (Sally Struthers - "I'd Rather Be in Philadelphia")- gjoni@FanForum
"Actress Sherilyn Fenn expecting second child" - Gilmoregirl82@FanForum
"Kelly Bishop is in this week's People Magazine in the tribute dedicated to Dirty Dancing" - gossipcom@FanForum
Ask Ausiello - May 23, 2007
Question: If you get Amy Sherman-Palladino to spill the final four words she had in mind for Gilmore Girls, you might actually be earning your salary.— Mike
Ausiello: Bite me.
Question: So, what gives? There is no way you could still be at Fox's upfront party. Did you track down AS-P, and, if so, what were the final four words she had in mind for Gilmore Girls?— Katrina
Ausiello: OK, here's the deal: Yes, I tracked her down, but, no, she did not cough up those elusive four words. But wait — there's more. And it's good. No, amazing. No, un-frakkin'-believable. Amazing, even. Wait, did I say that already? Well, it's true. Because just as I was about to brand her a big ol' promise-breaker right there in front of all those industry types, Amy explained why she couldn't divulge her long-ago-planned Gilmore ending. (Gilmore fanatics: This is the time in Sprockets when you either lean on a heavy object or just sit down.) In the next year or two, she hopes to make — wait for it — a two-hour Gilmore Girls TV-movie that ties up all those loose threads! I nearly fell over when she said it — especially given what she told me back in December. (BTW, lest you think Amy was pulling my leg, her partner in life and in showbiz, Dan Palladino, confirmed that a GG reunion pic is something they're interested in pursuing.) And I wasn't the only one floored by this development. "She said what?" gasped Scott Patterson after I relayed the information to him over the phone. "I didn't think she would be interested in doing something like that. But if she says she is, I would seriously consider it." Alexis Bledel was equally stunned. "A Gilmore Girls reunion?" she said with a laugh. "That's certainly not something I had thought of doing. That's really funny, I have no idea how I would feel in a few years. I don't know, I'm sure the script Amy would write would be great, but I guess I'd have to read it and see how I felt at the time." Last but not least, Lauren Graham e-mailed me late last night to say, "Could be a fun idea if everyone wanted to do it. I would do it just to get the four final words out of Amy. They torture me." Stand by for a comment from Warner Bros. big cheese Peter Roth. In the meantime, head over to the Ask Ausiello Discussion Thread and start brainstorming campaign slogans!
CW upfronts - didn't pick up Gravity the new show for Matt C. - shinystar@FanForum